Estimated read time: 5 minutes.
The 1920's and early 1930's marked the beginning of the golden age of hospitality in California, and Los Angeles became the go to destination for those seeking the new, the exciting and the distinctly different. Nowadays, visitors come from around the globe to visit Santa Monica, named one of National Geographics 'Top 10 Beach Cities' in the world due to its idyllic location and variety of activities it offers. The beach itself is wide and flat, with soft sand and eye-popping surroundings that are sure to delight all its guests. We take a look at some of our favourite beachfront hotels to enjoy the wonderful views and sounds of the ocean!
5* Casa Del Mar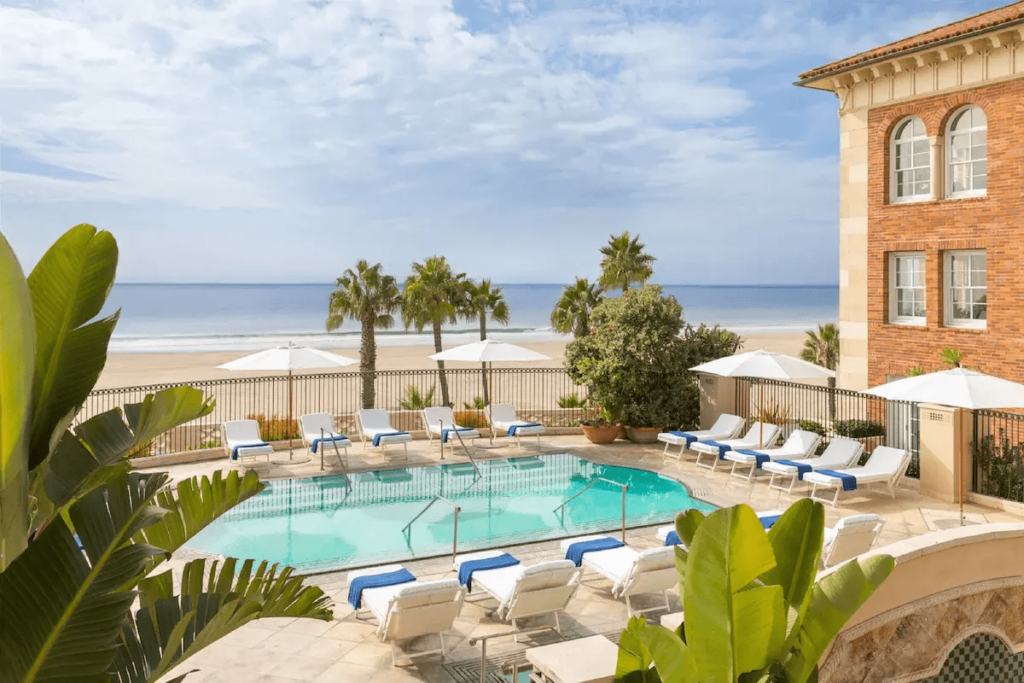 Sitting on the edge of Santa Monica Beach this luxurious hotel offers direct access to the sandy shores and stunning views of the Pacific Ocean, providing holidaymakers with the quintessential California beach experience. The lavish rooms and suites at Casa Del Mar boast private balconies and terraces – perfect for admiring the ocean delights from the comfort of your own space. And due to its west-facing location, guests will be able to witness the breath-taking sight of the sun setting as it dips below the horizon.
5* Shutters on the Beach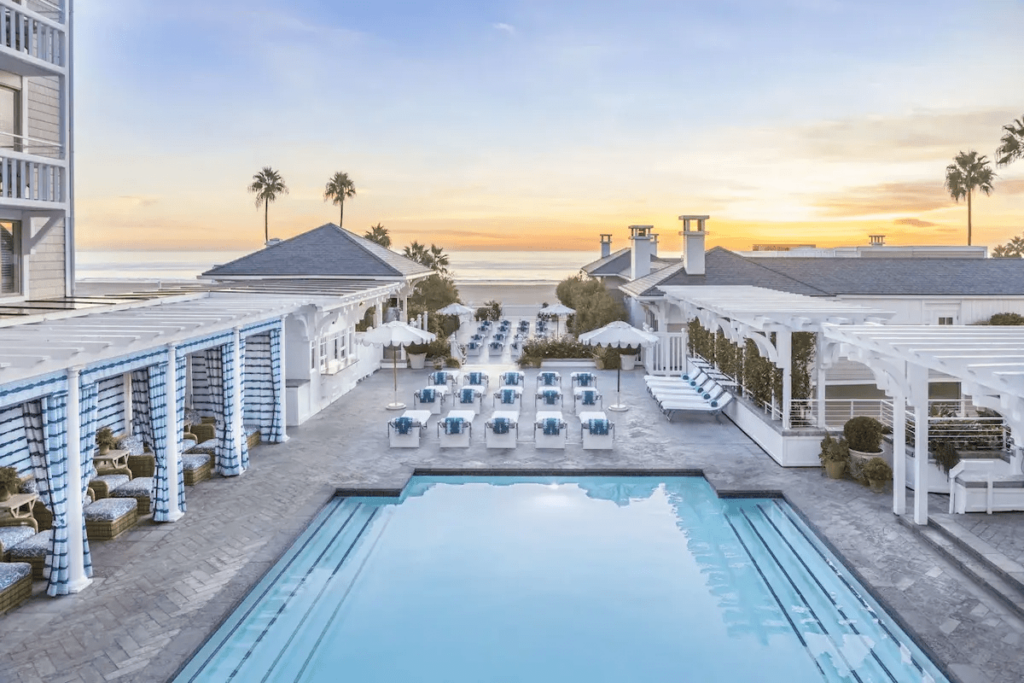 With miles of sand and sea, and shuttered doors that open onto breezy balconies and a sun-drenched pool terrace, each room and suite at Shutters on the Beach feels like a private beachside residence. Ocean view restaurants welcome guests with a delightful seasonal menu, or to further enhance your Santa Monica seaside experience, dine al fresco with a Shutters style special picnic on the beach where a veritable cornucopia of culinary favourites from land and sea await.
4* Shore Hotel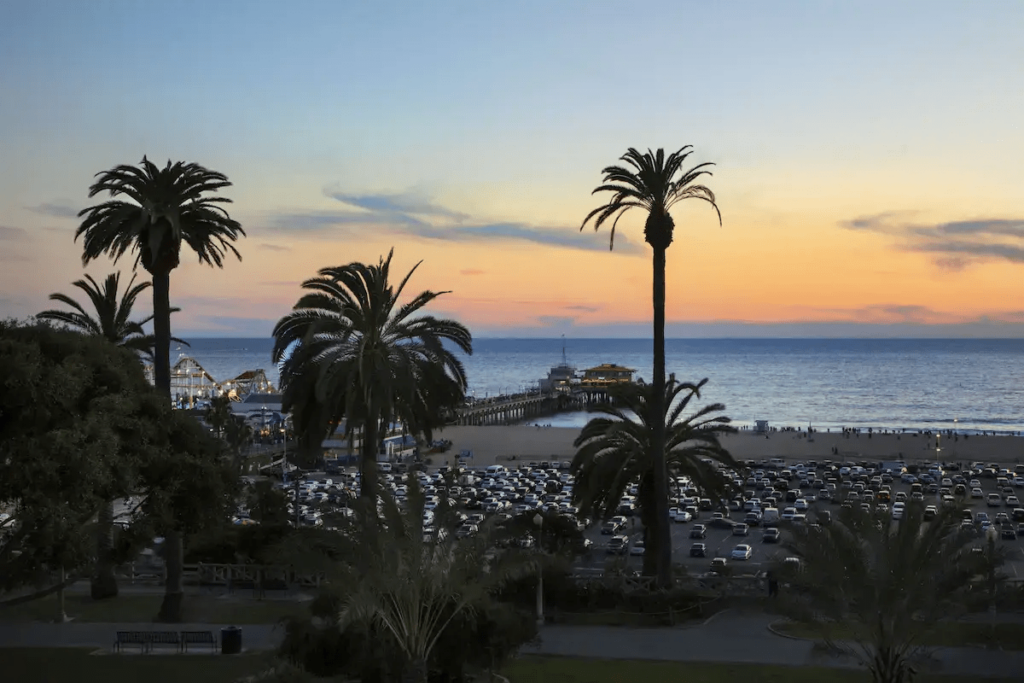 Just steps away from the world-famous Santa Monica Pier, this modern and environmentally conscious beachfront hotel blends coastal California style with earth-friendly sustainability. The bright and airy rooms provide unobstructed views from private balconies or patios, and its prime location can be experienced by guests from the Rooftop Pool where panoramic views of the ocean and surrounding areas can be breathed in and enjoyed.
4* Georgian Hotel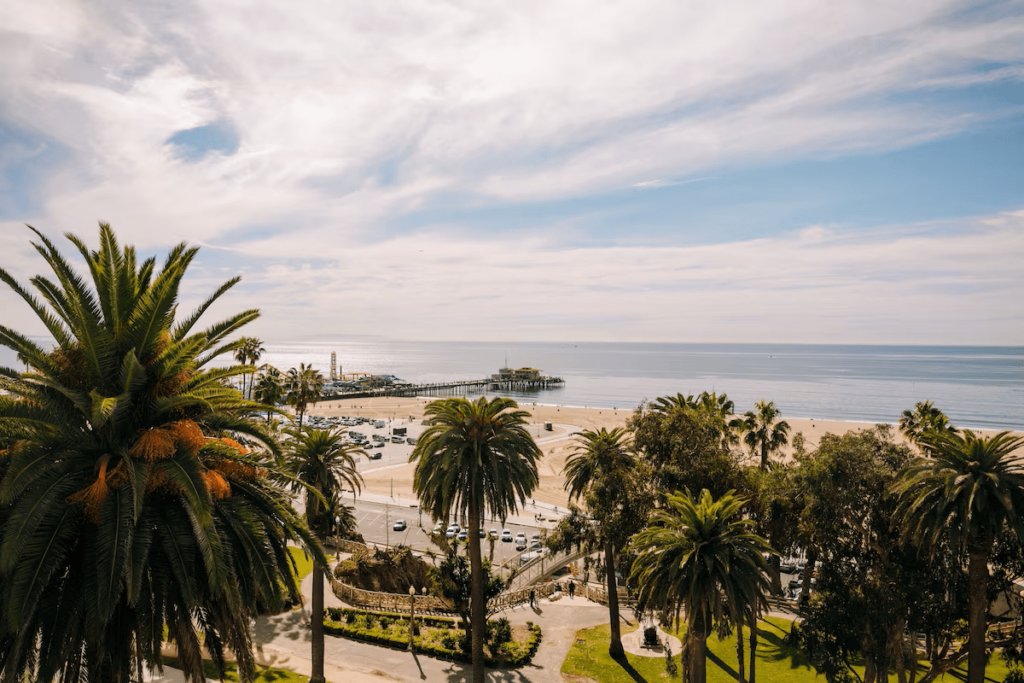 Built in 1933, the Georgian Hotel is known for its Art Deco architecture and historic charm, and much of its original character has been retained offering a unique blend of vintage elegance and modern amenities. The rooftop space, 'The Veranda' is a great spot to enjoy cocktails as well as splendid views of the ocean and Santa Monica Pier and is the ideal place to observe as the sun sets. Guests can partake in several beach activities whether that be volleyball and surfing or lounging on the sand.
3* The Redondo Beach Hotel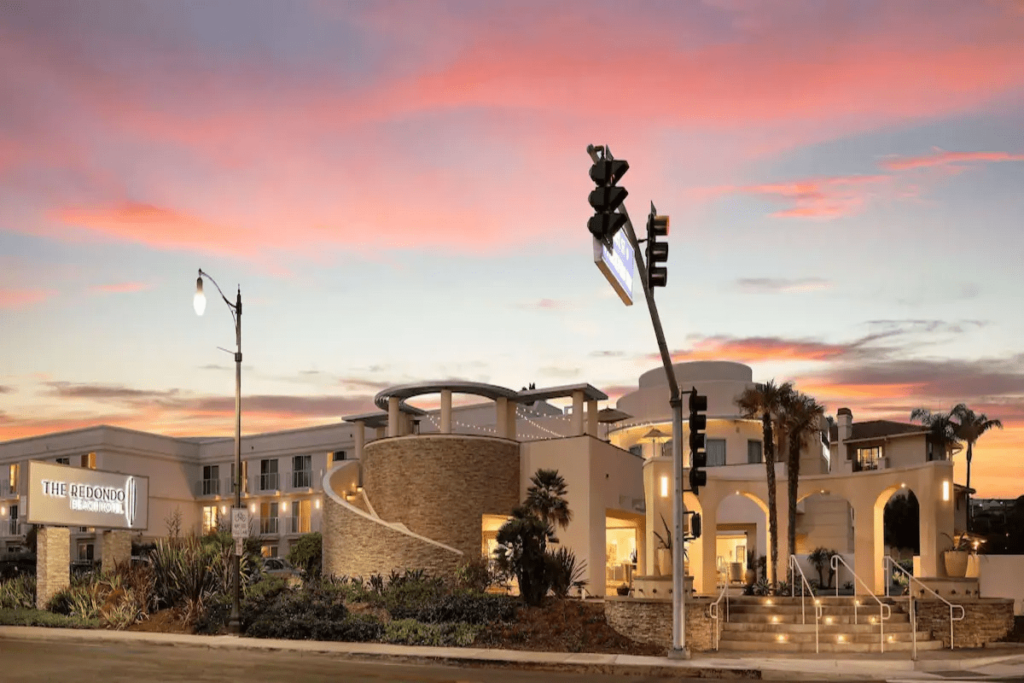 No matter what your clients are into, The Redondo Beach Hotel puts guests in the middle of it all! From surfing, volleyball and fishing to captivating sunsets. The vibrant beachfront is adorned with shops, restaurants, cafes and entertainment to provide the ultimate experience of local culture and the coastal atmosphere. This property offers 112 beach-inspired rooms that boast amazing views of the marina so guests can enjoy the sights and sounds of the ocean from the moment they wake up.
4* Portofino Hotel & Marina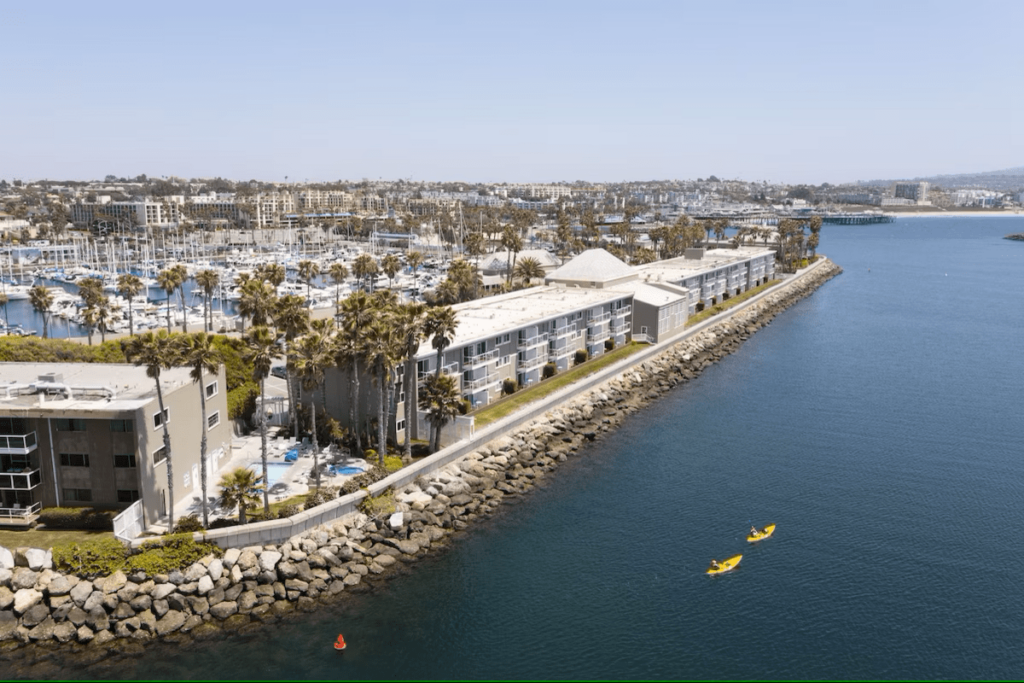 This property was originally called the Portofino Inn and was opened in 1962. Following a recent renovation, guests are now offered a luxurious haven from its prime South Bay location, just a stone's throw from the communities of Redondo Beach, Hermosa Beach and Manhattan Beach. Complimentary cruiser bicycles are available from Portofino Hotel & Marina allowing you to take full advantage of the flat oceanfront bike path that runs for over 27 miles up to Malibu.
4* Hotel Erwin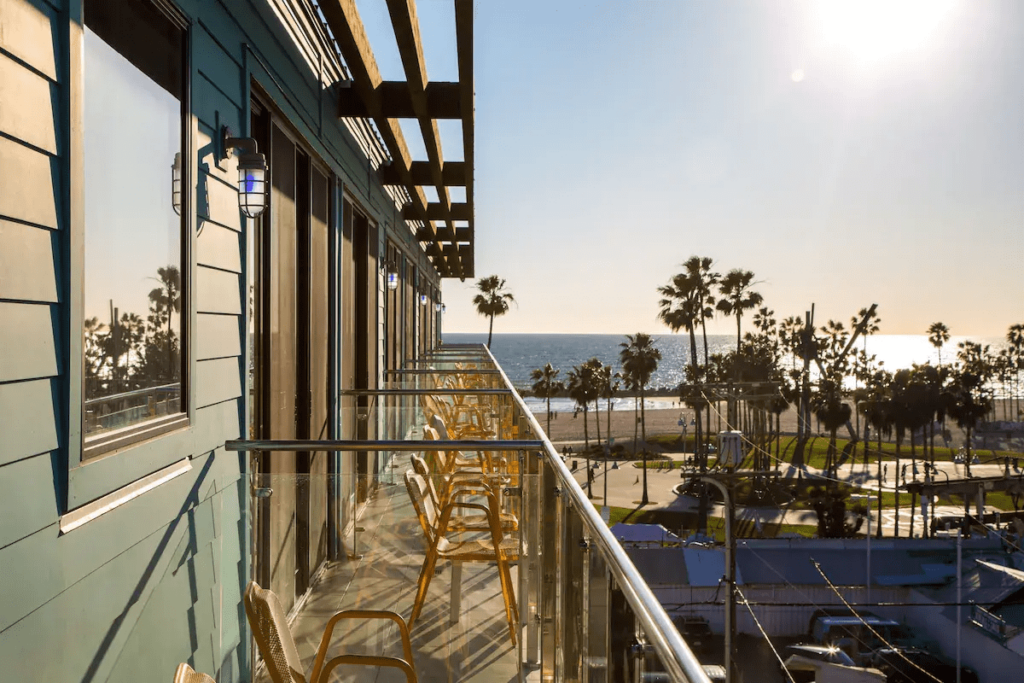 Since 1975, Hotel Erwin has been a proud ambassador to the Venice way of life – an area of California unlike any other! With its eclectic décor and predominant location right on Venice beach and adjacent to the world-famous Venice Beach Boardwalk. Guests here can walk, ride or skate to the Venice Pier located at the end of Washington Boulevard – here you can also watch street entertainers, surfers trying to catch their next wave, as well as stunning ocean views and sensational sunsets.
3* Marriott Marina del Rey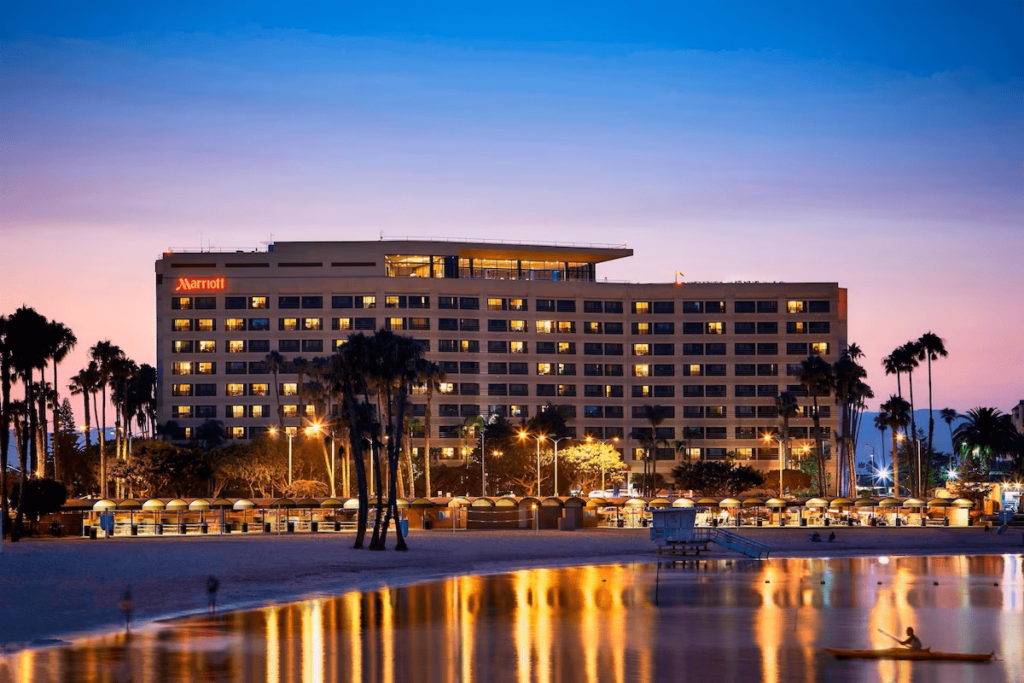 Quiet yet captivating, Marina del Rey is a top leisure destination and one of the largest man-made marinas in the world and is within a short distance of the Marriott Marina del Rey beachfront hotel. Directly across from the hotel is Marina Beach, also known as 'Mother's Beach', and named for its calm waters making it ideal for families. This property also boasts year-round outdoor dining with breath-taking marina and ocean views, and access to activities such as kayaking, paddleboarding and sailing, just steps from the hotel.
4* Viceroy Santa Monica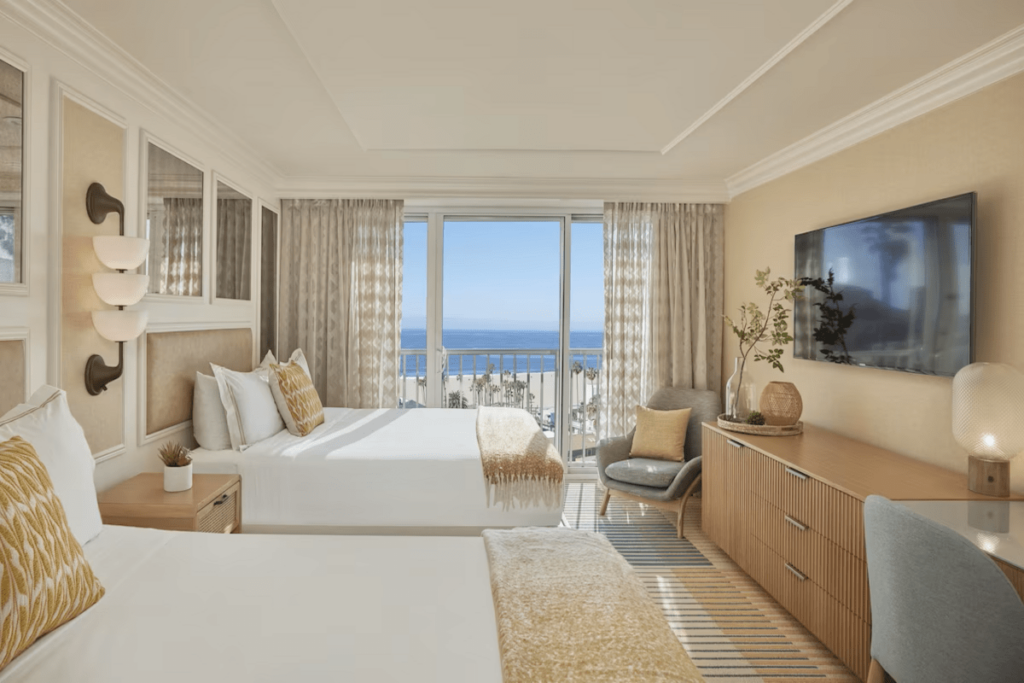 Located just steps away from the Pacific Ocean, Viceroy Santa Monica has been iconic since opening its doors 20 years ago, and following a dramatic transformation, now flaunts a fresh new edge and all-new experiences. When you stay here, you're invited to live like a local; laidback and fuelled by curiosity – whether that involves a sunrise walk along the beach or a spin around the pier, you have access to it all, and can easily get around using the complimentary bicycles.