Estimated read time: 2 minutes.
New York oozes luxury. Wherever you turn, there's plenty to keep the luxury traveller occupied including famous 5-star hotels, high-end shops, Broadway shows, award-winning restaurants, rooftop bars and amazing attractions.
It's no wonder New York has been attracting those seeking a touch of luxury for centuries. Hotels are constantly vying for guests' attention, looking to out-luxe each other by offering spas, rooftop bars and top restaurants to name a few. There's a wealth of 5* hotels to choose from but we have selected our pick of some of our favourite hotels in varying locations in the city that never sleeps; all standing out for very different reasons but are sure to satisfy the luxe lifestyle.
5* The Pierre, A Taj Hotel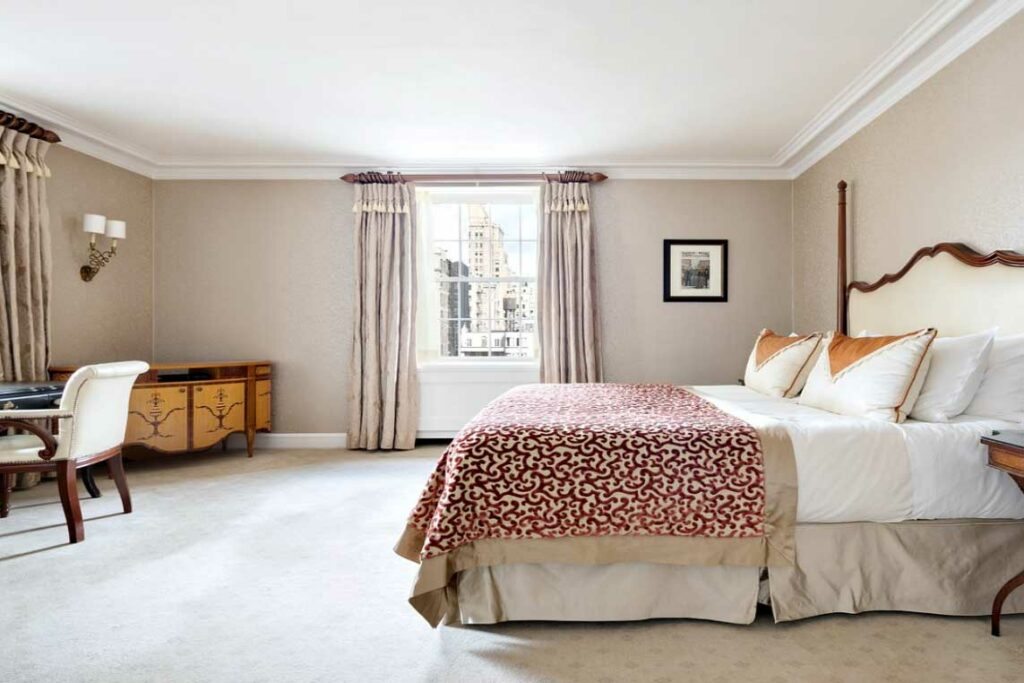 Based in Midtown, the hotel is a landmark on 5th Avenue on the corner of Central Park and Upper East side, an area which has luxury shopping abound alongside some of the most prestigious residential addresses in New York.
Since it opened in the 1930s, it has been a 'go-to' for those seeking New York opulence and glamour with a reputation for service excellence, attracting stars of film, screen and fashion.
It affords wonderful views of Central Park and has more than a nod to French influences.
The 'Perrine' restaurant is one of New York's glamourous restaurants offering modern American fare and the hotel is known around town for its afternoon tea. Other services for the discerning traveller include a 24-hour health club, hair salon and a limo/town car service.
A wonderful choice for those seeking a taste of New York in its 1930s heyday.
5* Conrad New York Downtown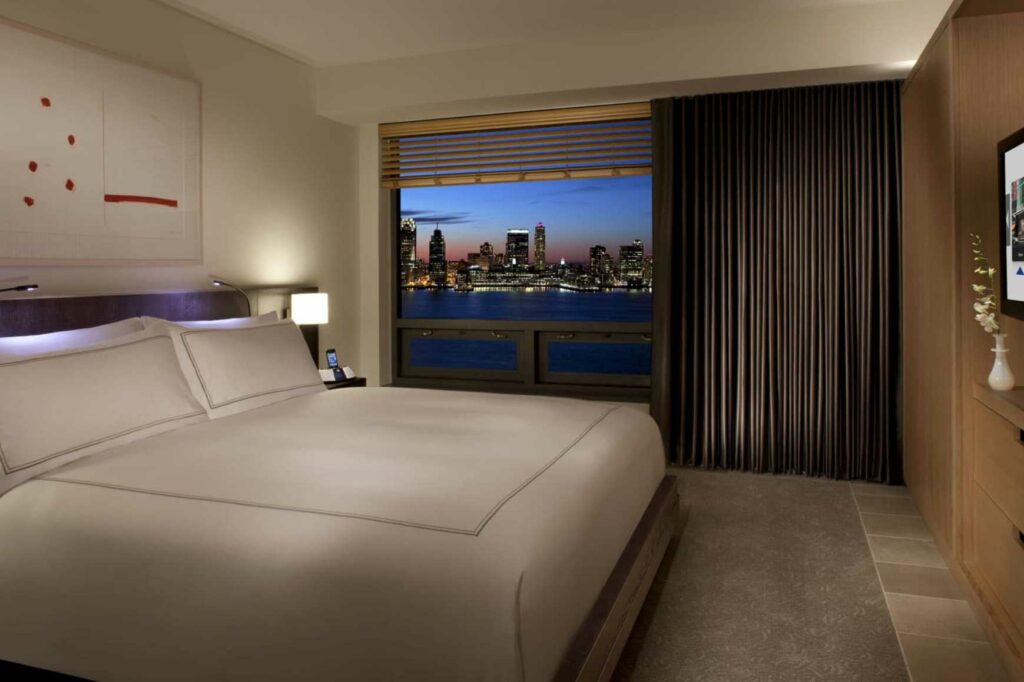 From the minute you walk into the lobby, you will be immersed in the hotel's reputation for modern luxury. With over 2000 pieces of modern artwork adorning the walls, sculptures, and décor, you cannot fail but to be impressed.
The all-suite hotel is located alongside the Hudson, minutes from major attractions. All suites have separate living and sleeping areas with luxury bathroom goodies. It's well-known for its 16th floor rooftop bar 'Loopy Doopy' which overlooks the Statue of Liberty. Atrio restaurant is open for breakfast, lunch, and dinner; its open kitchen offers seasonally inspired international cuisine.
Other facilities include a state-of-the-art cinema and 24-hour fitness centre for guests to enjoy.
5* Mandarin Oriental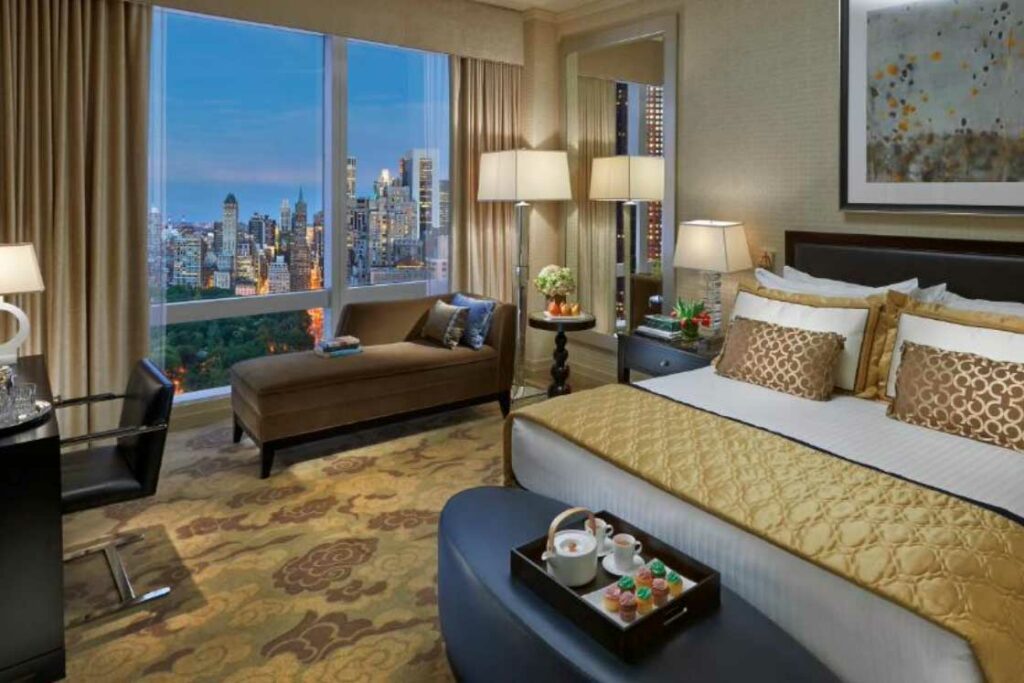 The Mandarin Oriental brand is synonymous with luxury worldwide due to its reputation for sophistication and excellent service and the New York hotel is no different. Close to Columbus Circle, the views from this hotel are out of this world; hardly surprising as it's located at the top of the Deutsch Bank Centre. The rooms and suites feature floor-to-ceiling windows as well as in the Mo Lounge, which offers all-day dining in a sophisticated setting.
Other facilities include an indoor pool, full-service spa, gym and limo/town car service and a concierge to arrange any activities during the stay.
5* Lotte New York Palace Towers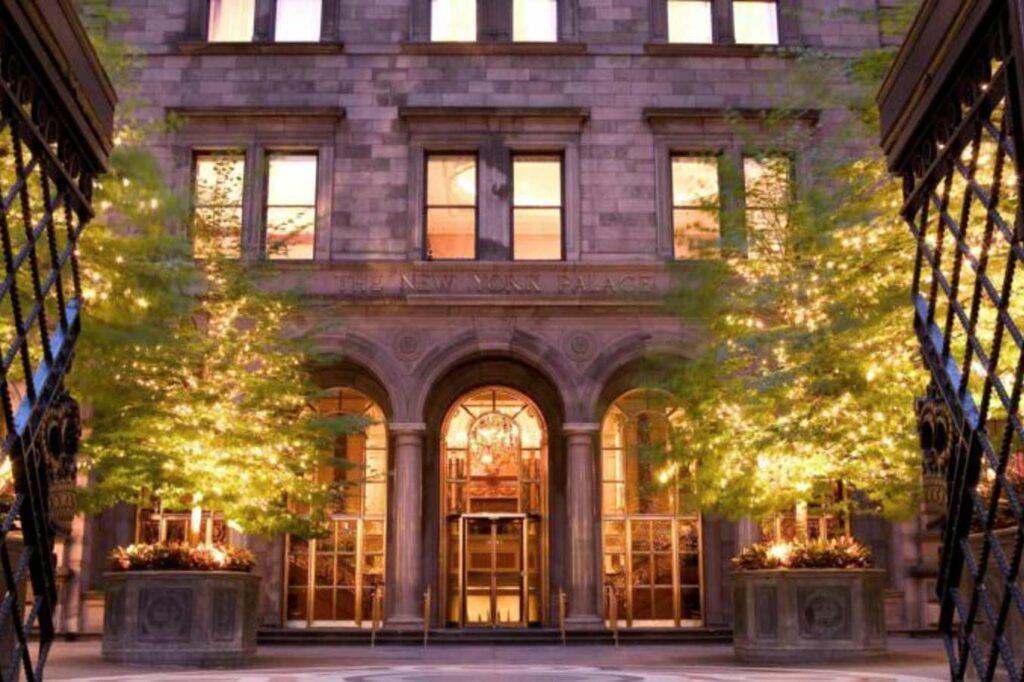 This iconic hotel is a popular luxury 'go-to' in New York and appears on many 'top' lists for good reason. Its genuine atmosphere and service have stood the test of time and the Towers in particular offer a step above and beyond. It's been featured in numerous films due to its location and incorporation of the famous Villard Houses.
Guests can relax in one of the five bars and lounges in the hotel including the unique boutique bakery to enjoy a sweet treat. Other facilities include a spa, salon services, fitness centre, and Les Clefs D'or concierge.
5* The New York EDITION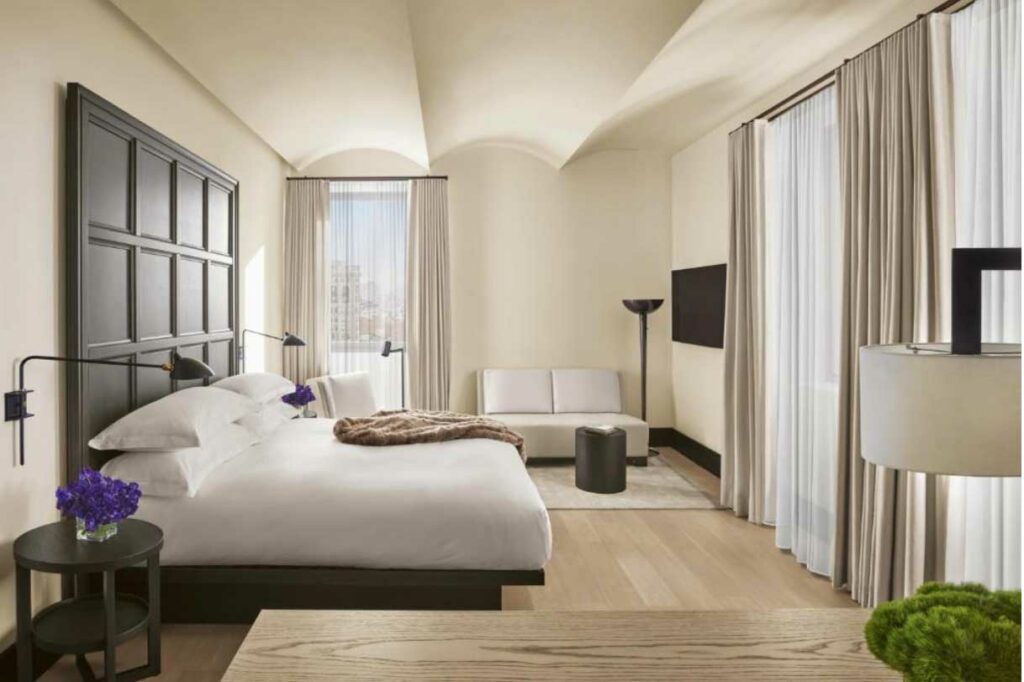 Located on Madison Avenue, this former clocktower has been transformed into a luxury, boutique hotel with 360-degree views of the city. Its attention to detail and personalised service has cemented its reputation for understated luxury.
Guests are in for a treat with Michelin-starred chef Jason Atherton's British cuisine at the Clocktower restaurant and two bars. Other facilities include an urban spa, 24-hour fitness centre and an executive butler service and car services.