Estimated read time: 4 minutes.
Customers increasingly seek accommodations that offer more than just a place to lay their heads; they crave an experience that lingers in their memories forever. In this blog, we unveil some of the most extraordinary hotel suites around the globe, each redefining opulence and pushing the boundaries of luxury hospitality and experiences of a lifetime for long lasting memories and bragging rights!
5* The Muraka at Conrad Maldives Rangali Island, Maldives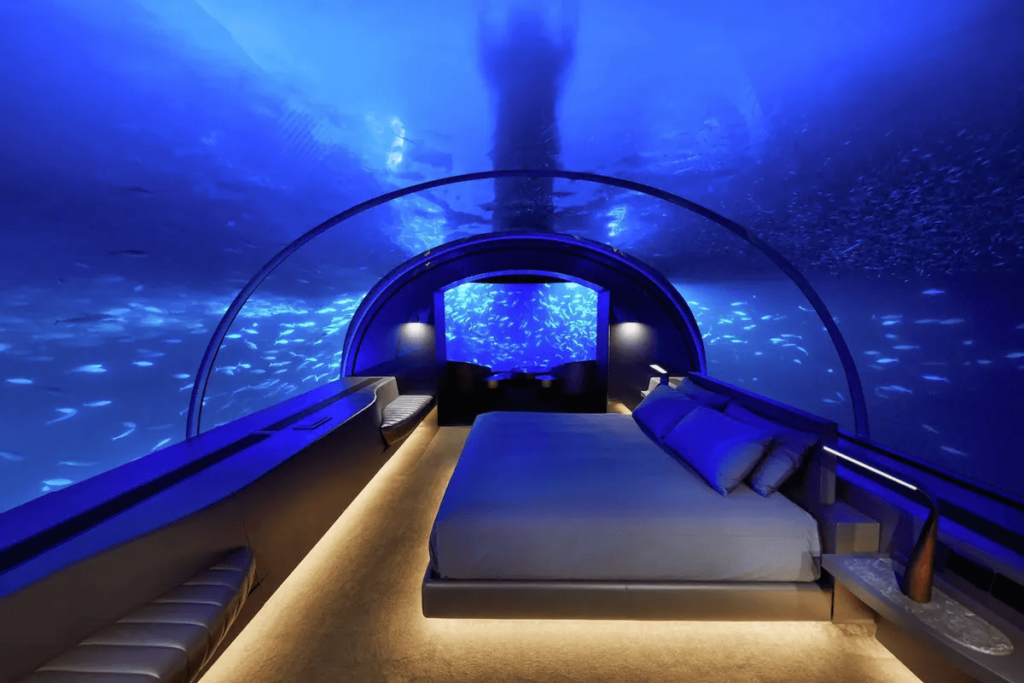 Another gem at the Conrad Maldives Rangali Island, The Muraka, takes luxury to unprecedented depths. This unique two-level residence combines an overwater villa with an underwater suite, offering an extraordinary escape for the discerning traveller.
What Makes It Unique: Apart from its undersea bedroom, The Muraka stands out for its extraordinary aquatic bathroom where guests can take a bubble bath while vibrant marine life swims by, creating an otherworldly spa experience.
Suite Facilities: The overwater villa features modern amenities, a private infinity pool, and a dedicated 24/7 butler. However, it's the underwater bedroom that truly mesmerises guests. With curved acrylic walls, it feels like a luxurious aquarium, surrounded by the wonders of the ocean.
4* V8 Hotel MotorWorld Region, Stuttgart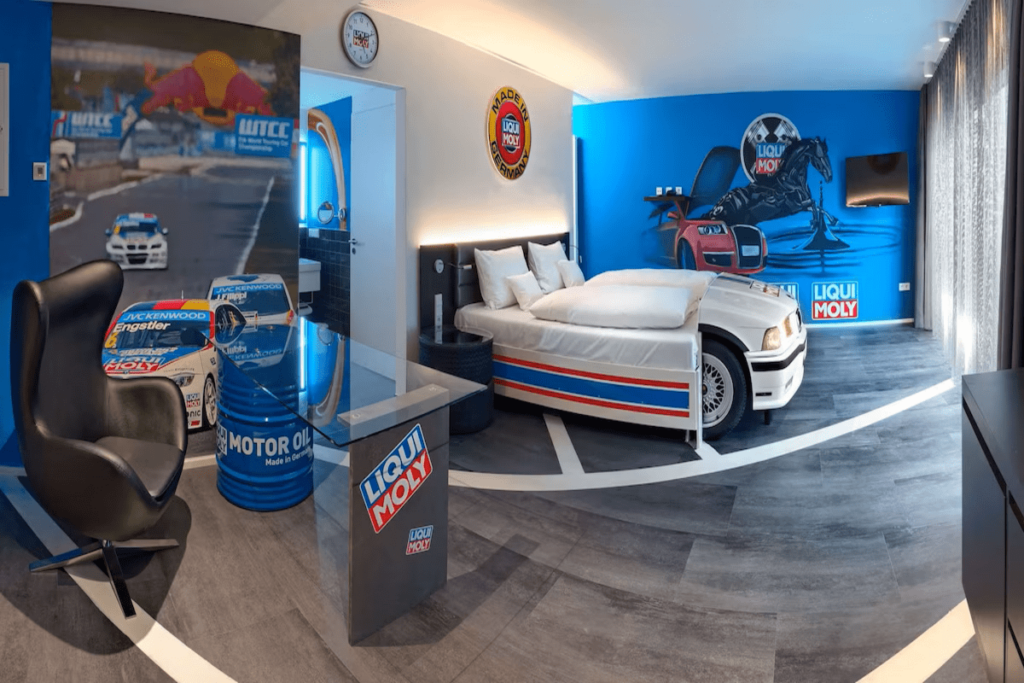 Part of a large complex dedicated to cars and all things automotive, this property provides a fun and immersive experience that's perfect for car enthusiasts. The hotel often hosts or provides easy access to various car related events, shows and exhibitions, and the hotel itself even features a small car museum showcasing classic and vintage cars.
What makes it unique: The hotel's rooms are designed and decorated with various automobile themes, making it an extraordinary experience for car lovers. Each room showcases different aspects of the automotive world such as classic cars, racing, vintage and more. Guests can immerse themselves in a world of automotive history and culture.
Suite facilities: There is a suite for every automotive lover here. The Classic Car Suites are adorned with vintage car memorabilia and classic car parts to take guests back to the golden age of automobiles, while the Racing Suites feature racing related paraphernalia such as checkered flags and racing helmets. There are also suites dedicated to American cars, caravans, garages, drive-in cinemas and of course, Route 66.
4* Kakslauttanen Artic Resort, Finland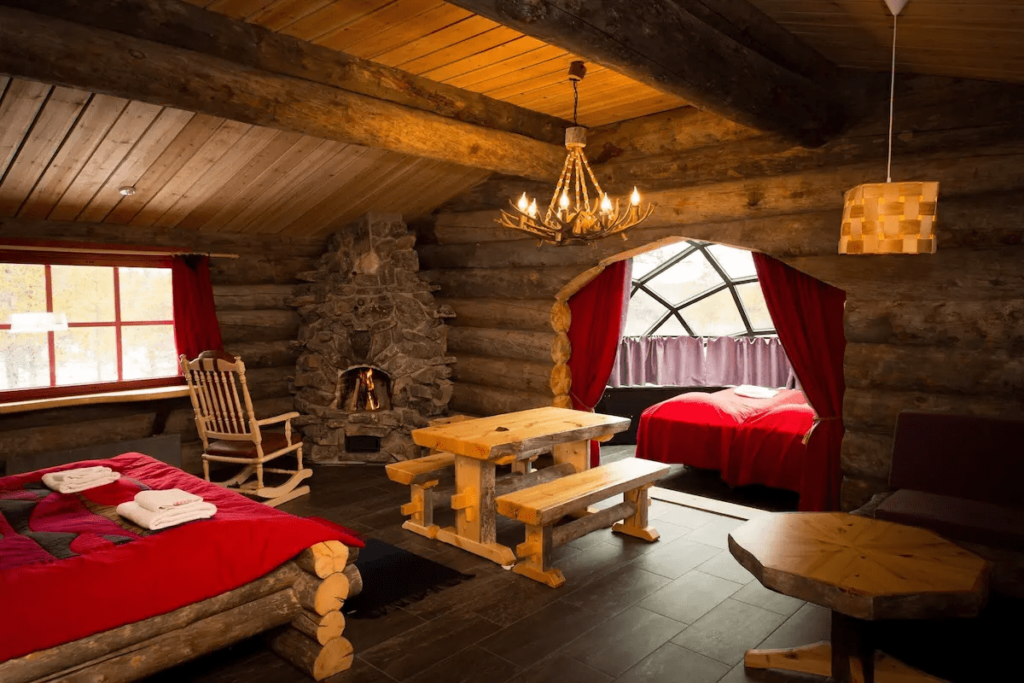 A popular destination for winter tourism as it's located in the northernmost region of Lapland, it's known for its beautiful arctic landscape and is the ideal location for witnessing the Northern Lights and engaging in winter activities such as husky sledding, reindeer sleigh rides, snowmobile safaris, ice fishing and cross-country skiing. The remote and pristine surroundings of this property allow travellers to experience the magic of the Arctic wilderness firsthand.
What makes it unique: One of the main highlights of this resort is its glass igloos. Specifically designed with a glass roof to provide guests with an unobstructed view of the Arctic night sky and the opportunity to witness the magical Northern Lights from the comfort of their own cosy heated space.
Suite facilities: The Kelo-Glass Igloos are a unique and luxurious option that combine the charm of a traditional log cabin with the unforgettable experience of staying in a glass igloo. With private sauna, glass roofed sleeping area and cosy interior all amidst the natural surroundings and tranquillity of this mesmerising destination.
5* Hotel Emiliano, Sao Paolo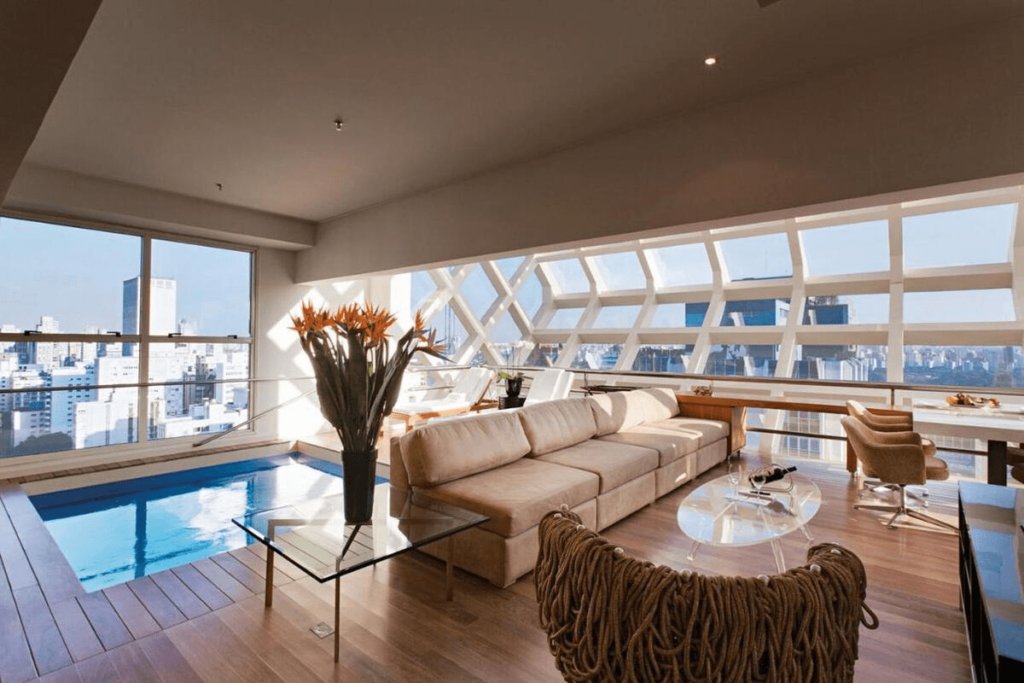 Situated in one of Sau Paulo's upscale neighbourhoods, Hotel Emiliano offers guests easy access to high end shopping, dining and cultural attractions. Known for its excellent service and hospitality, staff here strive to provide a personal experience for a truly memorable stay. Guests will also find a diverse range of gourmet dining options in the hotel restaurants, and various treatments and therapies in the tranquil spa.
What makes it unique: Renowned for its modern and sophisticated architecture and design providing a fusion of modern aesthetics with a touch of Brazilian flair, creating a stylish and inviting atmosphere. The hotel features curated art collections throughout its guest rooms and public spaces, and art exhibitions and cultural events are often hosted here adding an artistic touch to the guest experience.
Suite facilities: Located on the top floor, The Cube Suite boasts stunning 180° views of the Sao Paulo skyline and is the ideal choice for those that want to impress! Designed to offer guests ample space for relaxation and entertainment, not only will travellers uncover accommodation spanning 135m², but they'll also find double height ceilings, a bedroom on the Mezzanine featuring king sized bed and integrated bathtub, plus, a heated swimming pool situated in the living area!
5* Hotel Puerta America, Madrid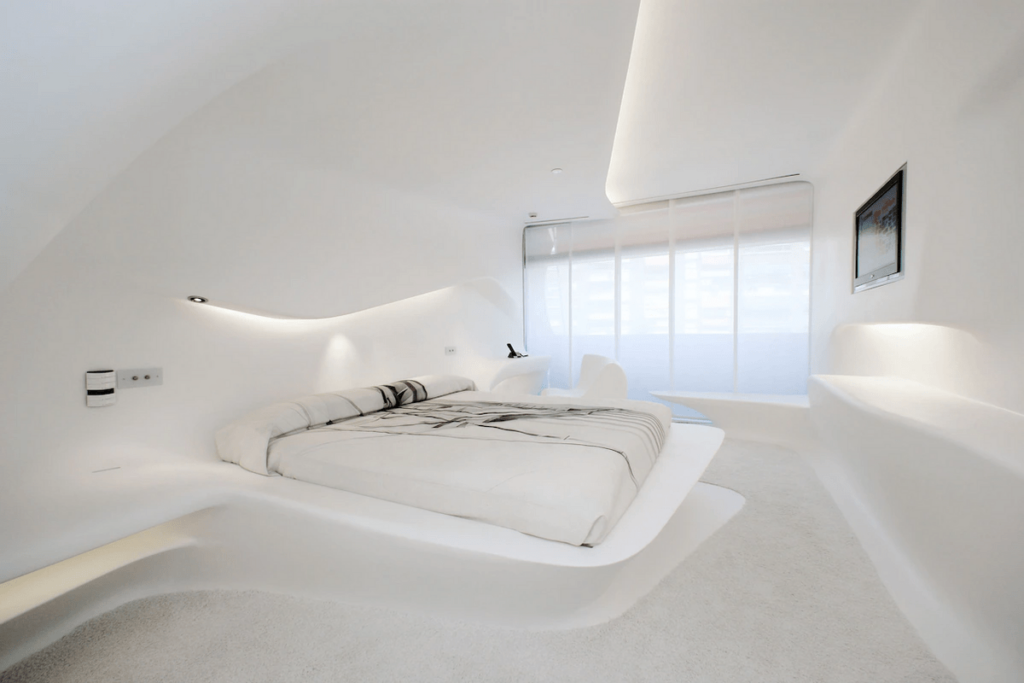 What makes it unique: Designed by 19 different world-renowned architects, that were each responsible for one floor of the building, this hotel is compiled of striking architectural diversity with a fascinating blend of colours, styles and materials, making each floor a distinct experience. From futuristic and minimalist spaces to vibrant and artistic environments, the cutting-edge design throughout this hotel makes it a paradise for any deign enthusiast.
Suite facilities: With each suite designed by different prize-winning architects and talented designers, each experience is unique and memorable in its own way. From clean lines and understated elegance in the Jean Nouvel Suite, and an innovative use of material and sculptural elements in the Ron Arad Suite, to the vibrant, colourful and playful design of the Teresa Sapey Suite and futuristic forms of the Zaha Hadid Suite.
4* Argos in Cappadocia, Uchisar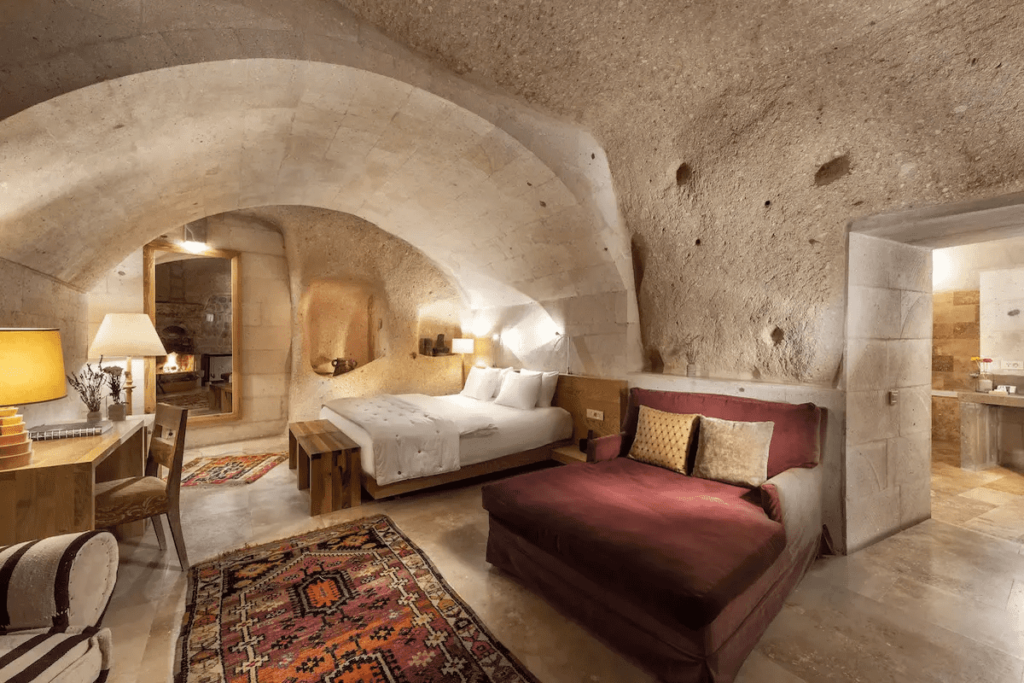 The combination of historical significance, unique cave accommodations, stunning views and luxury amenities, make Argos in Cappadocia an exceptional and unforgettable destination. Perched on top of a hill, the hotel offers breathtaking panoramic views and the opportunity to witness unforgettable sunrises and sunsets. Guests here can enjoy an exceptional dining experience and delicious Turkish cuisine, and a range of luxurious facilities including a spa, swimming pool and beautifully landscaped gardens, all of which add to the unique appeal of this hotel.
What makes it unique: The hotel itself is built within the ruins of an ancient monastery and a series of historic caves, creating a one-of-a-kind setting that seamlessly blends with the surrounding natural and cultural heritage. One of the standout features is the cave rooms and suites where guests have the opportunity to stay in a beautifully restored cave to experience traditional Cappadocian living while still enjoying modern amenities and luxury.
Suite facilities: Generously spacious with separate living and sleeping areas, The Splendid Suite provides ample room for relaxation and comfort. Built within the historic cave dwelling, this accommodation blends traditional and contemporary design, and boasts a private terrace or balcony to enjoy the stunning surrounding views.
4* The Palms Casino Resort, Las Vegas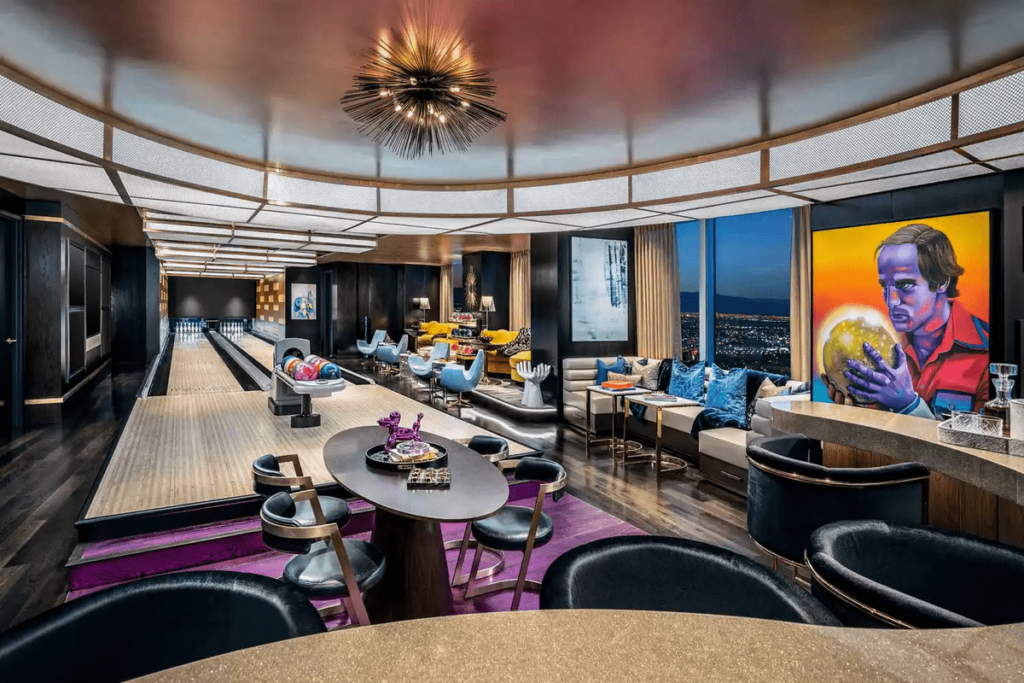 Sitting adjacent to the Las Vegas strip, Palms Casino Resort lets you enjoy everything that Vegas has to offer along with premier gaming, entertainment and accommodations. Showcasing an impressive art collection throughout the property creates a distinctive atmosphere for its guests. The hotel offers a diverse selection of restaurants and dining experiences ranging from upscale steakhouses to casual eateries, including Vetri Cucina which is an intimate venue located on the 56th floor offering amazing panoramic views of the city below.
What makes it unique: The Palms is famous for its extravagant and themed suites which promise to provide guests with an unforgettable experience. From signature rooms that provide the ultimate in style and comfort as well as stunning views of the Las Vegas Strip, and guests own personal haven of a luxurious suite, to Sky Villas and Penthouses that provide the very best that Vegas has to offer. The Palms also plays host to The Pearl Concert Theatre – a state of the art concert venue which can hold up to 2,500 people and has hosted numerous musical acts and events.
Suite facilities: For guests looking for a truly unique Las Vegas experience, look no further than the Experiential Suites. These one-of-a-kind suites feature everything from private bowling alleys and personal basketball hoops to a personal cinema space and rose gold beauty bar. But that's not all! They also come with a private chef and butler service!!
5* Hard Rock Hotel, Ibiza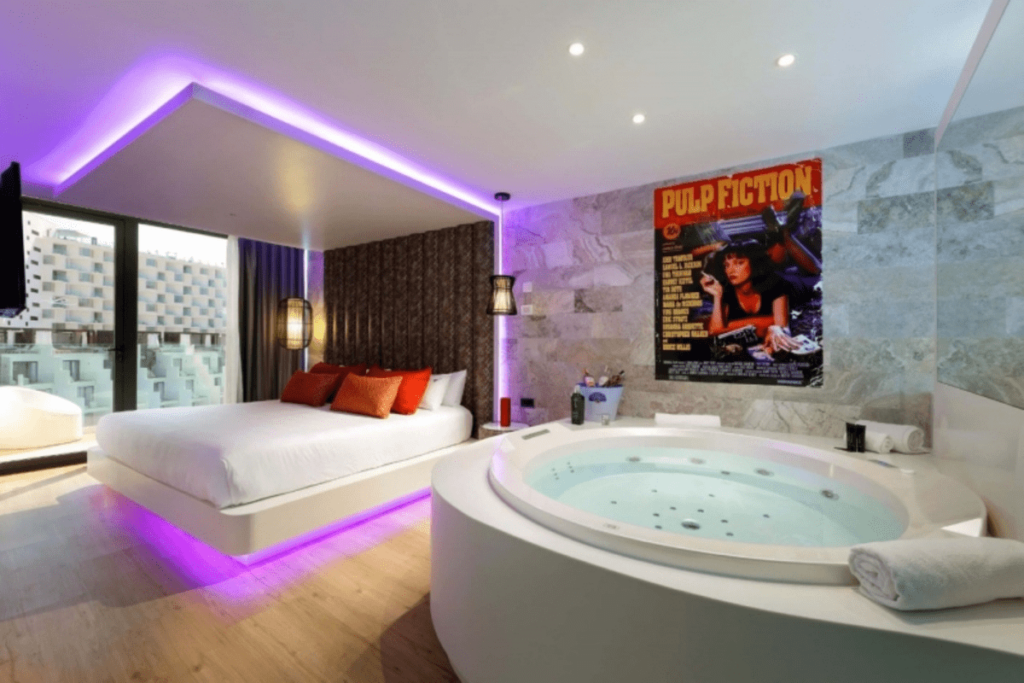 Situated on the beautiful Playa d'en Bossa beach, the Hard Rock Hotel offers guests direct access to the sandy shores and stunning views of the Mediterranean Sea. Incorporating music into its design, décor and overall atmosphere it creates an immersive experience for any music enthusiast. Featuring a stylish rooftop lounge and pool area with panoramic views of the surrounding area, it's the perfect place to unwind and soak up the Ibiza vibes.
What makes is unique: The hotel hosts live music performances and events from local and international artists. It is also well known for its lively pool parties and entertainment events which attract a young and energetic crowd. Hard Rock Hotel offers a program titled The Sound of Your Stay – an exclusive audio experience that brings guests closer to music. And let's not forget the Rock Shop – offering everything from classic t-shirts to jewellery, watches and sweatshirts – the perfect souvenir of your trip awaits you!
Suite facilities: Playing homage to the vibrant and iconic era of the 1980's, the 80s Suite offers retro décor, neon lights and nostalgic memorabilia to reflect the pop culture, music and fashion of the time. With vintage arcade games, cassette tapes, vinyl records and 80s movie posters, guests will be transported back to that wonderful time of bold colours, geometric patterns and curly hairstyles.
All of these hotels are available to book on our website.