Paris is the city of love and romance. Whether you are planning a honeymoon or a romantic getaway for your guests, Paris has some of the best hotels for couples to enjoy their time together. From small family-run boutique hotels to luxury 5-star properties, there are many options for couples who want to experience the romantic side of Paris. We've rounded up some of the best Paris hotels for romance that offer everything from cosy rooms with stunning views to onsite spas and gourmet French cuisine. To make a stay in Paris extra special, be sure to check out these top picks.
5* Le Damantin Hotel & Spa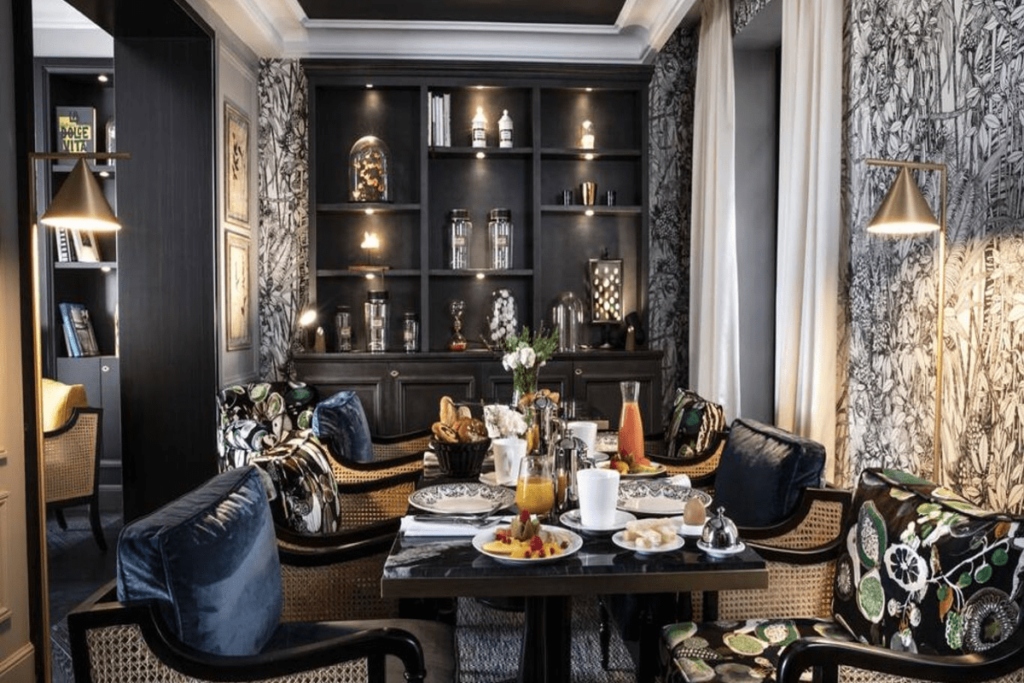 This luxurious little gem is nestled on the banks of the Seine and is warm and inviting. Once a private house and now a boutique hotel it has a low-key but refined service. Rooms are contemporary with period architecture, and some have views of the Eiffel Tower for added romance. The hotel's kitchen and bar serve modern French cuisine.
4* Hotel Bourg Tibourg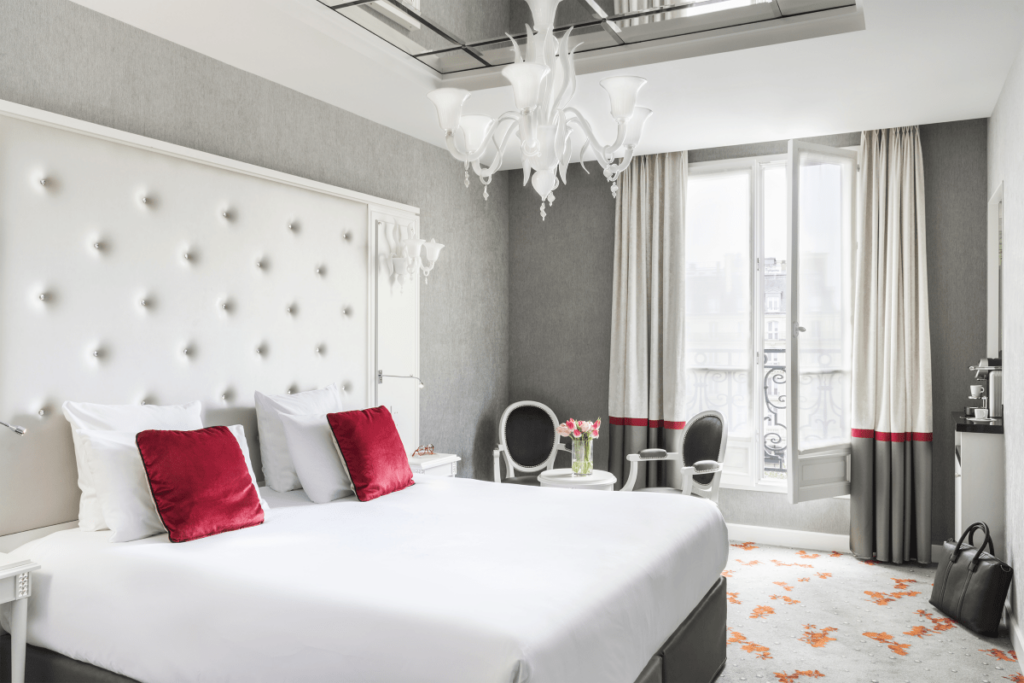 Located in fashionable Marais, this hotel has a decadent feel to it with its distinctly Moorish palace influences. It has an intimate atmosphere with just 24 rooms with luxurious fabrics in the rooms, decorated in rich colours with decadent bathrooms. Breakfast is served in your room or in the hotel salon. There's no restaurant, but you're spoilt for choice nearby.
5* Maison Souquet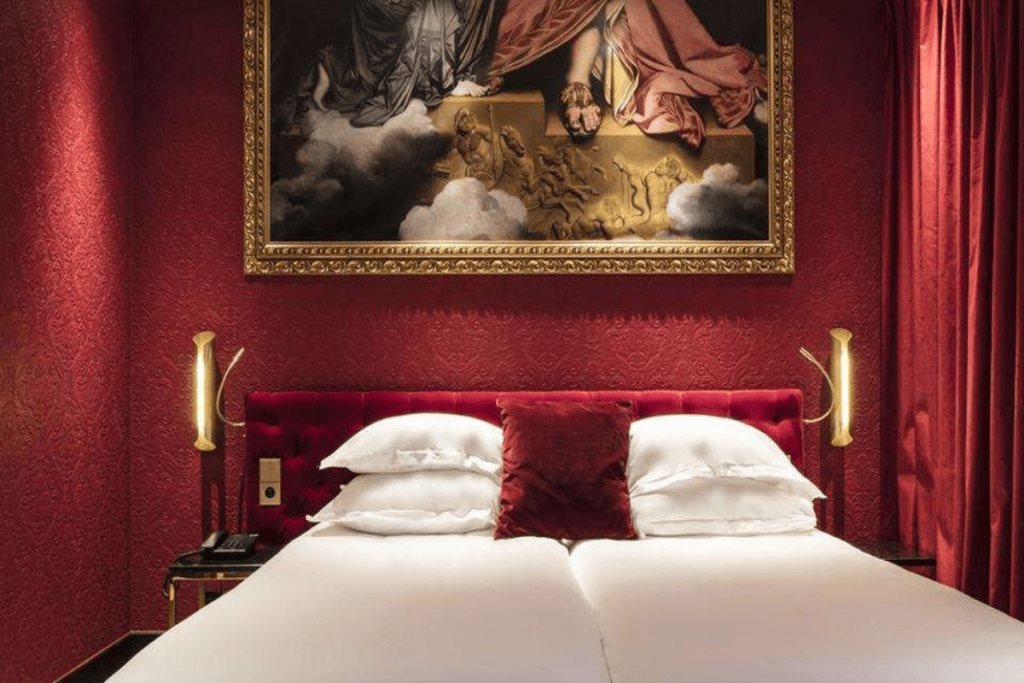 This small hotel may have a risqué history, being a former pleasure house if your clients are seeking a romantic getaway in Paris, this should be on your list. Located near the Moulin Rouge in Montmartre, you'll feel like you've travelled to another era with its bewitching interiors and 19th-century furniture. The Library Lounge with a hidden bar and huge fireplace is the perfect place to unwind, or ask for the key to the Secret Spa!
5* Hotel Vernet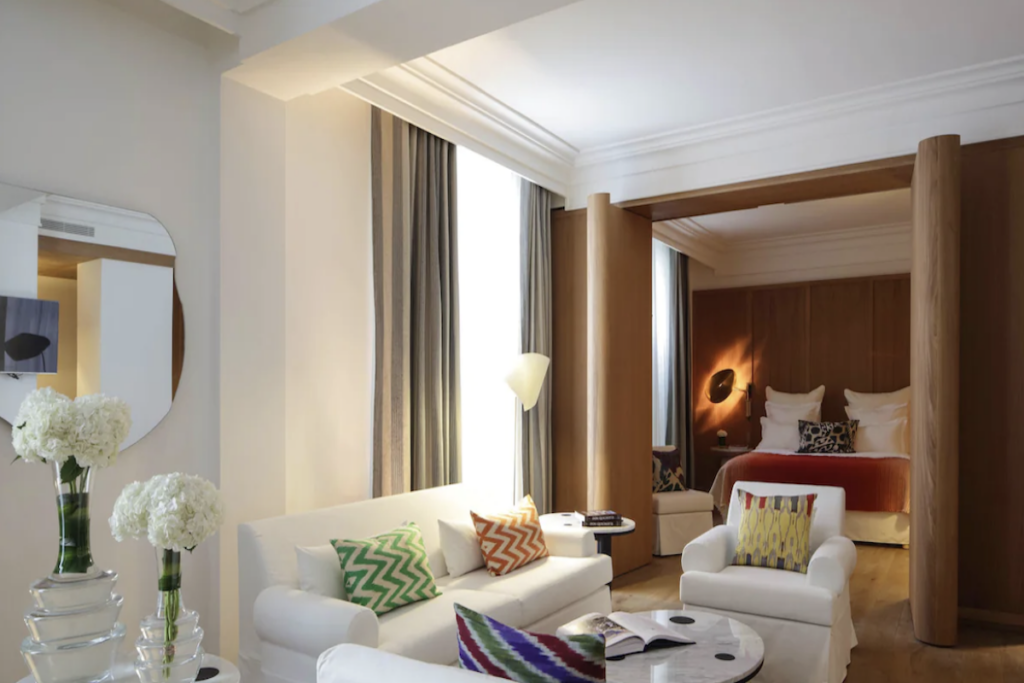 Steps away from the Champs Elysees, this boutique hotel is on a quiet street. Dine under a stained-glass dome designed by Gustave Eiffel, in a chic atmosphere with the kitchen on show. Rooms have a marble bathroom with mosaic floors and rooms come with a Nespresso machine. Rooms are contemporary with nods to Parisian elegance and craftsmanship.
5* Le Burgundy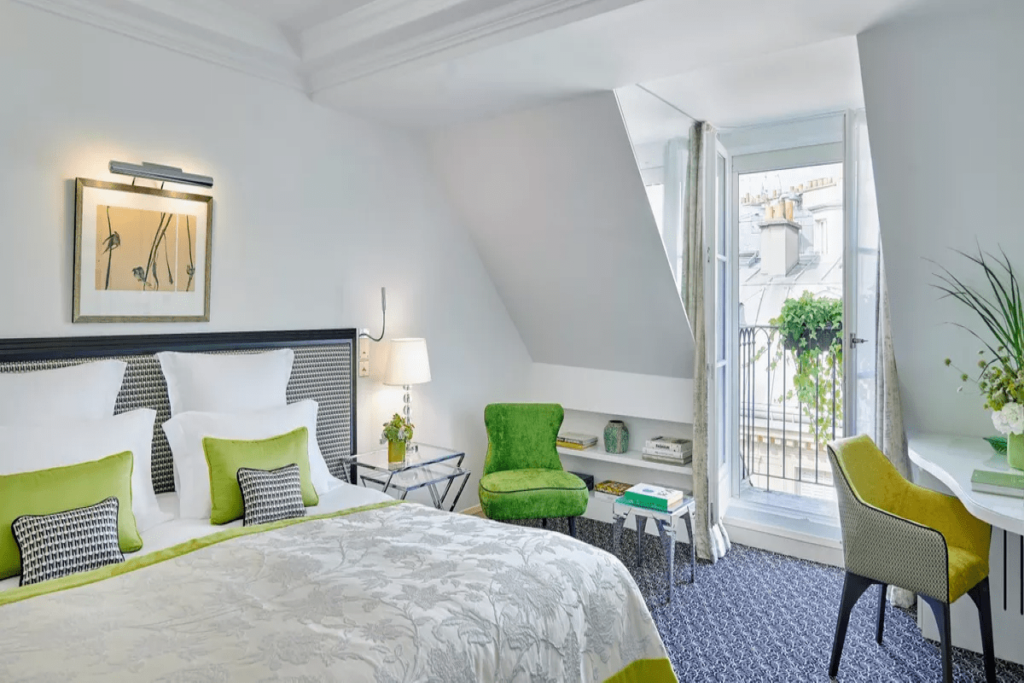 A beautiful hotel in the Tuileries Gardens, this small hotel with timeless chic packs a punch. With its own Michelin-starred Le Baudelaire restaurant and a tapas bar. Rooms are furnished with designer fabrics with an ultra-luxe feel. Additional amenities include a full-service spa, with a sauna, pool and hammam. Romance packages are available including champagne and massages.
5* Four Seasons George V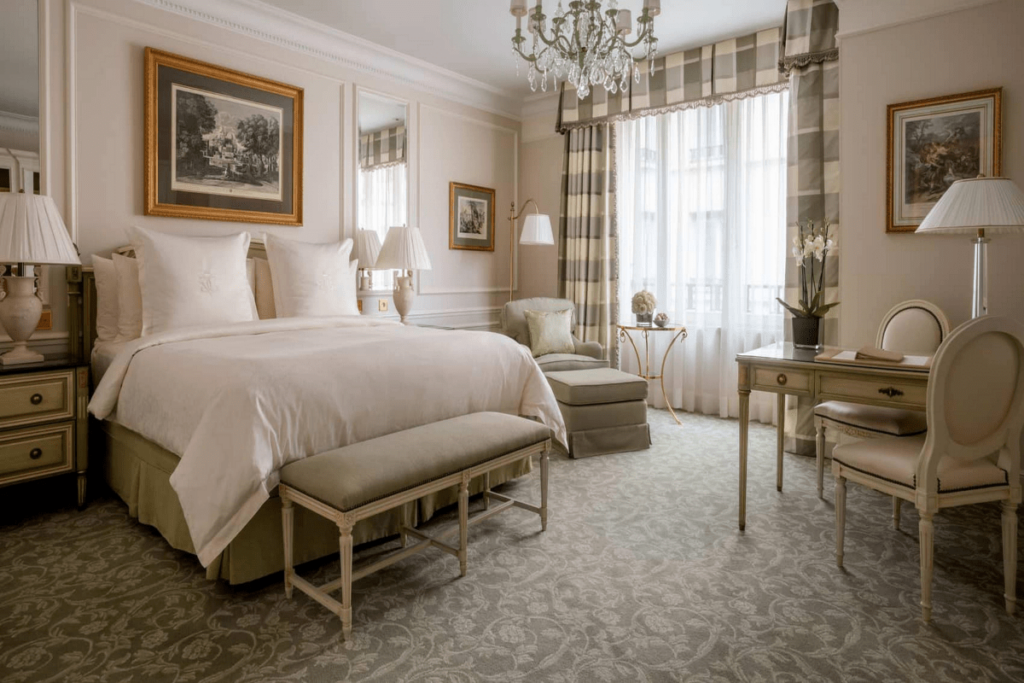 An art-deco landmark in Paris, the hotel's opulent interiors and incredible floral arrangements indicate you're somewhere special as soon as you arrive. Nestled just off Champs Elysees, with high-end shops nearby. Rooms are large by Parisian standards and elegantly appointed. It comes as no surprise that the hotel has 3 restaurants with 5 Michelin Stars between them as well as a designer spa with its own champagne bar.
5* Le Meurice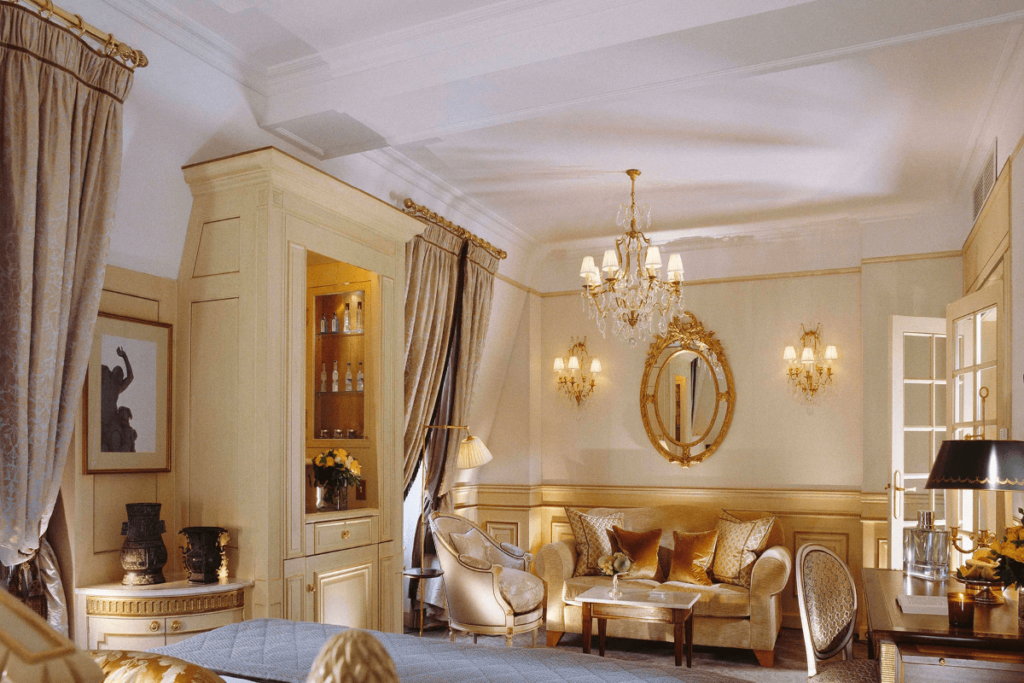 One of Paris' Grand Dames, the hotel has been welcoming guests for 200 years with its central location close to Tuileries, Louvre and Place de la Concorde. Many artists have stayed over the years, it's where Picasso was married. Room décor celebrates French splendour with modern comforts, with Italian marble bathrooms. There are two Alain Ducasse restaurants, one with 2 Michelin stars.
5* Hotel Elyssia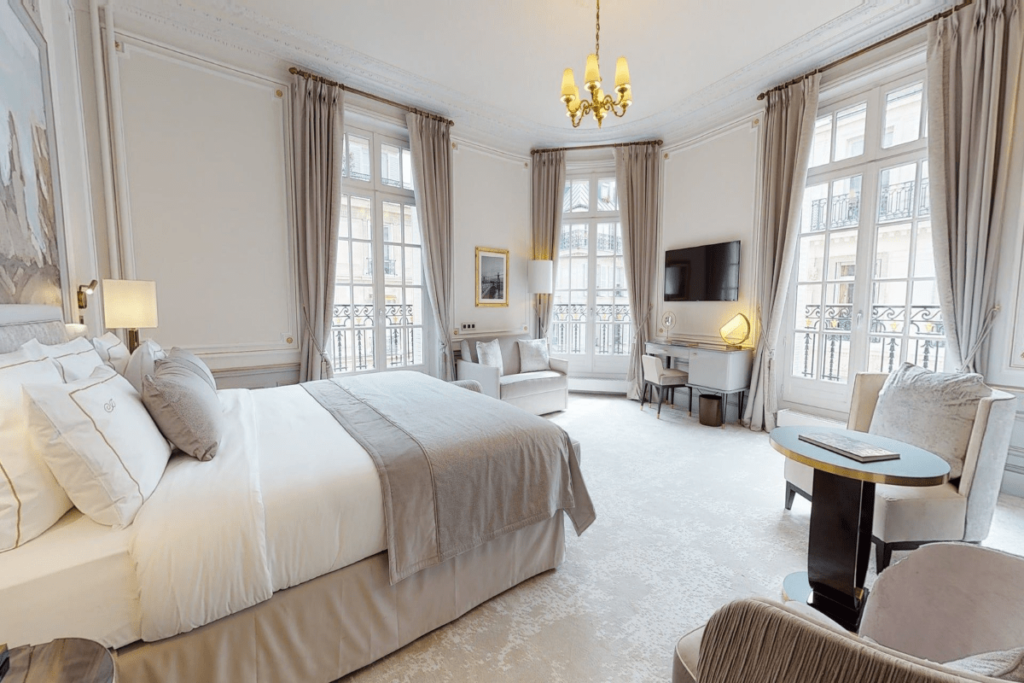 Located in one of Paris' most exclusive districts, this small, sophisticated hotel retains many original features and is perfect for a romantic getaway. The luxurious and spacious (by Paris standards) rooms are elegantly decorated and provide the perfect escape from the city. The hotel's restaurant and bar have a romantic atmosphere and serve French cuisine. Other facilities include a fitness room and spa.
4* TOO Hotel Paris MGallery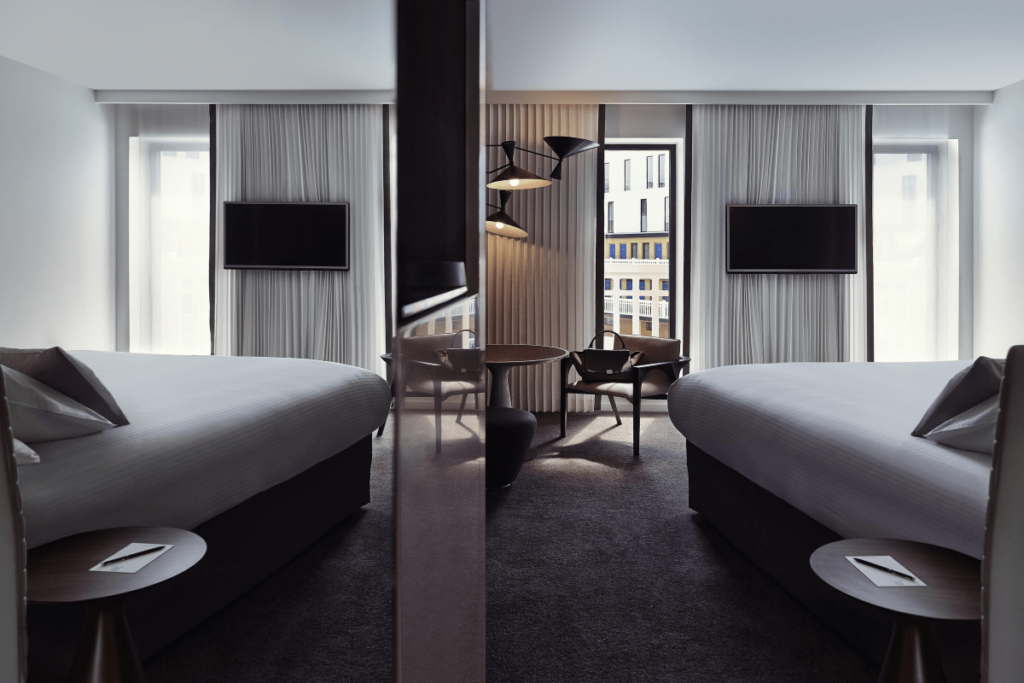 Located in Bercy, known as Downtown Paris, the hotel is the perfect retreat to enjoy a romantic view. The interior, designed by Phillipe Starke, is as striking as the architecture of the tower that the hotel is located in. Rooms are designed to showcase the amazing views of Paris. The restaurant offers views of the city, and the rooftop bar (the highest rooftop in Paris) has an outdoor terrace to enjoy a sunset and a drink!
5* Le Roch Hotel & Spa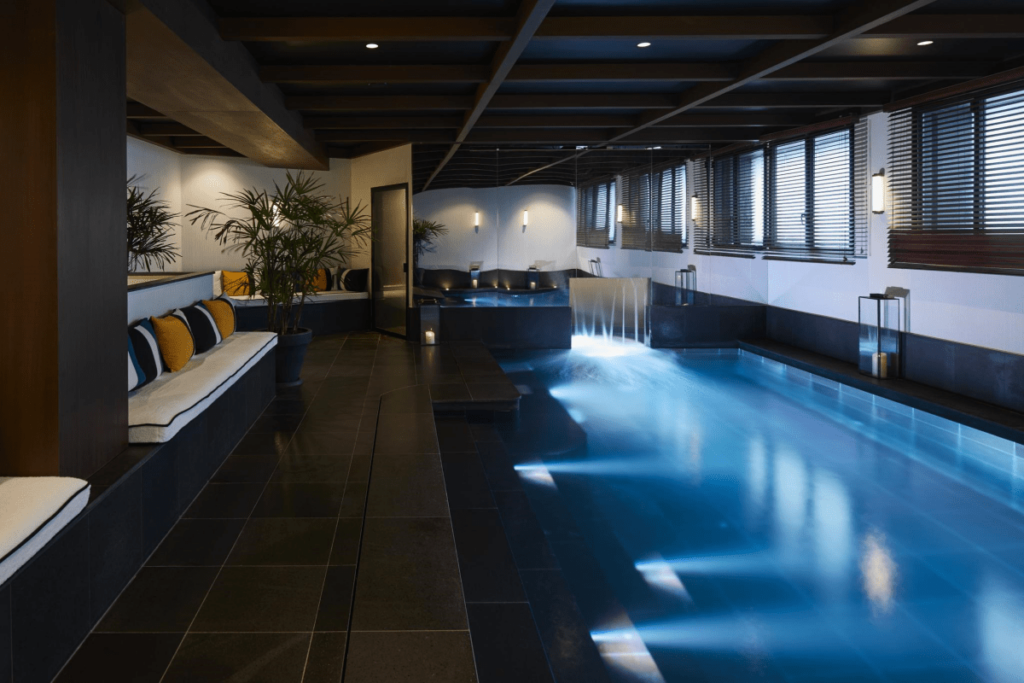 This cosy, boutique hotel is located close to the Louvre and manages to combine elegance with a relaxing approach. After a day's sightseeing or shopping, there are plenty of places to relax from the courtyard garden, terrace, or spa with a black lava stone pool. The restaurant offers seasonal French cuisine and a bar where you can relax in an armchair with a cocktail, or a book close to the fireplace.